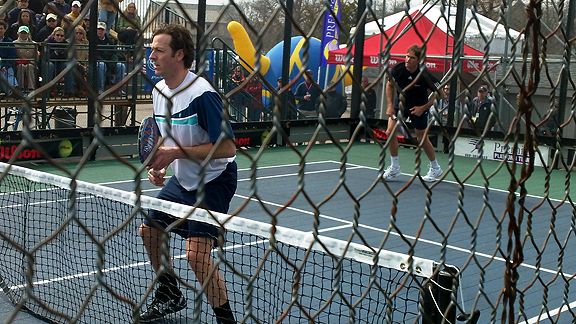 Courtesy of Matt Lindner
When the weather outside is frightful, paddleball is so delightful.
GOLF, Ill. -- Platform tennis star Johan Du Randt is much, much better at playing his sport of choice than he is at explaining what exactly it is.
"Tennis and squash combined a little bit in a cage, I guess," the former pro tennis player says.
"It's tough to explain," adds his doubles partner Matt Porter. "I think if aliens were watching us play, they'd want to know 'What are these human beings doing?'"
Of course, aliens wouldn't necessarily be the only ones confused by the sights and sounds provided by the American Platform Tennis Association's National Championships at the Glen View Club near Chicago.
The players' constant movement on the heated aluminum surface punctuated by the constant thwap of a paddle striking foam rubber ball as the biggest event in tennis's answer to arena football played out before a crowd of hundreds.
Most of the 550 participants in this weekend's tournament are former tennis players like Du Randt, a South Africa native now living in Boston. He took up the game four years ago and says it wasn't nearly as easy a transition as he thought it was going to be.
"You've gotta be way more patient which is a tough thing for all us tennis players," he said with a laugh.
That's because unlike in regular tennis, you can't just hit the ball as hard as you can and expect it to get by your opponent.
Platform tennis courts are roughly ¼ the size of a regulation outdoor tennis court. The power game is negated by chicken wire. Yes, chicken wire fencing, which surrounds the court on all sides and is as much in play as the lines on the court themselves.
"Because you can play the ball off the screens, sheer power is not going to do it for you," added APTA Executive Director Ann Sheedy.
"The chicken wire adds the element where you can't hit the ball too hard because it's gonna bounce back," Porter said.
That's hardly the only difference between tennis and "paddle" as it's known to aficionados.
While regular tennis's season spans the summer months, the sport is primarily played from October to March in the northern United States, although Sheedy said the sport's popularity has been growing in Atlanta in recent years.
The aluminum courts, which cost around $70,000 to make, are heated by propane tanks just underneath the surface in order to melt snow and ice off during the winter.
But just because the surface is heated doesn't mean players are.
"The aluminum conducts the heat enough to get the snow and ice off," said David Dodge, who owns a company that builds platform tennis courts. "It's not to keep the players warm,"
About that weather factor -- while ideal conditions for a traditional outdoor tennis match are sunny and warm, paddle players prefer it to be a bit ... well gloomier, outside when they play.
"35 degrees, a little cold so the ball gets a little harder so it's easier to hit winners," Porter said.
"You want cloudy weather because it's such a short court and you do a lot of lobbing so if it's sunny, you can really miss it," Sheedy added.
And top-level players don't get near as much practice as their professional counterparts on the ATP Tour.
"We made a whopping three times this year," said Lauren Zink.
Zink and Cindy Prendergast combine to form one of the most successful teams in platform tennis history. The pair joined forces to burn through this year's competition with ease, winning their second national championship to go along with four runner-up finishes since 2005.
Yet if either one of them tried to explain what they accomplished during their weekend in Chicago to a stranger, they'd likely receive more confusion than admiration in response.
"They might think its ping pong, they might think it's a beach game," Prendergast said laughing. "You just try to relate it to tennis."